Tri Chloro Ethylene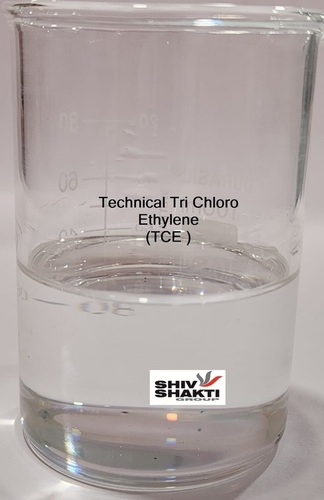 Tri Chloro Ethylene
Price And Quantity
Kilograms/Kilograms

90 INR
Product Specifications
chlorine, ethylene gas

Other
cleaning slovent

6 Months
mixer of chloro ethylene

1 Years
Product Description
As industrial solvent this halocarbon Tri Chloro Ethylene chemical compound find its applications in various organic materials It is the mixture of higher chlorinated liquid which is widely known for its excellent solvency This is available in the physical form of liquid which is appear to be heavy and clear Every compound has two names one is IUPAC name and other one is the chemical name Name of this offered compound itself is its chemical name whereas its IUPAC name is trichloroethene This clear liquid has a sweet smell and exhibits number of properties and being nonflammable is one of them This Tri Chloro Ethylene is said to be highly stable when it is recycled easily in the presence of common chemical stabilizer Smell of this liquid compound has an uncanny similarity with the chloroform
Tri Chloro Ethylene Properties:
Appearance: Clear heavy liquid
Contents: Mixture of higher chlorinated liquid
Odor: Sweet smelling like chloroform
Density: Between 135 to 140
Boiling point : Between 60 and 85 degree centigrade
Solubility: Excellent solvency
Stability: Easily recycled highly stable in presence of common chemical stabilizer
FAQ:
Q. What is trichloroethylene and what are its uses?
Ans: Trichloroethylene is popular as a volatile and colorless liquid, which gets easily evaporated into the air. This chemical is nonflammable in nature and has a sweet odor. It is applicable as a solvent that can take out grease from metal parts. It is an advanced quality chemical which can make other chemicals, especially the refrigerant ones.
Q. How trichloroethylene is harmful to the body?
Ans: It can cause irritation to the human skin and eyes. Exposure to this chemical in high concentrations can cause headaches, sleepiness, dizziness, confusion, liver damage, unconsciousness, nausea, etc. This is a carcinogen, which may pose bad effect on the body.
Q. Why was trichloroethylene banned?
Ans: Many scientists want to impose a ban on trichloroethylene (TCE), which is a widely used chemical which can give rise to multiple severe health problems, such as cancer or Parkinson's disease.
Trade Information
ICD Vadodara

4000000 Per Month
280 Kgs HDPE Drum

Chandigarh Himachal Pradesh Mizoram Manipur Meghalaya Andaman and Nicobar Islands Dadra and Nagar Haveli Lakshadweep Gujarat Central India Karnataka Pondicherry Daman and Diu Telangana West Bengal Nagaland East India Arunachal Pradesh Goa West India Sikkim Rajasthan Jammu and Kashmir Maharashtra Delhi Assam Tripura Uttarakhand Tamil Nadu Bihar Haryana Madhya Pradesh South India Jharkhand Uttar Pradesh North India Punjab Andhra Pradesh Kerala Odisha Chhattisgarh All India