Diethylene Glycol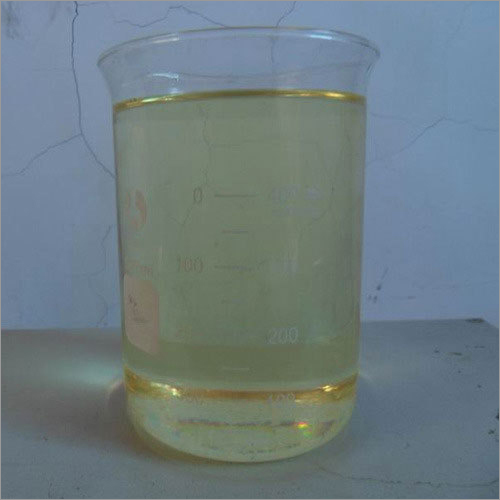 Diethylene Glycol
Price And Quantity
Kilograms/Kilograms

70.00 INR
Product Specifications
1.12 g/cm.cu Gram per cubic meter (g/m3)

Less than 1 % by KF
Product Description
Diethylene Glycol is a colourless, hygroscopic liquid that is used in the manufacturing of antifreeze, dyes, and braking fluids. It significantly possesses solvent characteristics and is used in the production of plasticizers and resins. However, because to the potential health concerns, it should or must be used with caution or precautions. Diethylene Glycol is a versatile solvent that is soluble in a variety of solutions. Water, ether, acetone, ethylene glycol, and alcohols are all miscible. This product is often used as a solvent in a range of sectors because to its solvent characteristics.
Di Ethylene Glycol Properties:
| | |
| --- | --- |
| Minimum Order Quantity | 200 Kg |
| Distillation Range | 210 degree centigrade - 250 degree centigrade |
| Physical State | Liquid |
| CAS No | 111- 46-6 |
| Purity % | 99% |
| Packaging Details | 200 litres Drum |
| Grade Standard | Industrial Grade |
| Chemical Formula | C4H10O3 |
| Molecular Weight | 106.12 g/mol |
| EC No. | 203-872-2 |
| Density | 1.12 g/cm.cu |
| Melting Point | (-) 10.45 Degree centigrade |
| Boiling Point | 197 Degree Centigrade |
| Usage/Application | Manufacture of resins and plasticizers |
| Synonyms | Ethylene diglycol, DEG, Diglycol, Dihydroxy diethyl ether |
| Specific Gravity | 1.115 - 1.120 |
| Moisture | Less than 1 % by KF |
Diethylene Glycol Applications:
Diethylene glycol (DEG) is a colorless, odorless, and highly viscous liquid that is mainly used as a solvent and in the production of polyesters, resins, lubricants, and plasticizers. Here are some of its applications:
1. Industrial solvent - DEG is a highly effective solvent and is extensively used in various industries such as textile, paper, and chemical to dissolve different substances.
2. Polyester resins - DEG is a vital ingredient in the production of unsaturated polyester resins that are used in making fiberglass-reinforced plastics for different applications like automobile parts, boats, and other industrial components.
3. Adhesive and sealant - DEG is used as an adhesive and sealant to bond different surfaces together to form a strong and durable bond.
4. Anti-freeze - DEG is a key component in antifreeze solutions as it lowers the freezing point of water and prevents the engine from freezing in cold temperatures.
5. Liquid detergents and soaps - DEG is used in liquid detergents and soaps to increase the viscosity and provide a smooth texture to the final product.
6. Chemical intermediates - DEG is used as a starting material for the production of other chemicals like ethylene glycol, which is used in the production of polyester fibers, bottles, and films.
Overall, DEG is a versatile chemical with a wide range of applications across several industries. Its unique properties make it a valuable ingredient for various manufacturing processes, and it continues to be an important industrial chemical despite its potential hazards.
Frequently Asked Questions:
1. What is diethylene glycol?
Ans: Di ethylene glycol (DEG) is a clear, colorless, hygroscopic liquid with a sweetish taste. It is used as a solvent, particularly in the manufacturing of resins, plastics, and textiles. It is also used as a component in antifreeze and coolants.
2. What are the risks associated with diethylene glycol?
Ans: DEG can be toxic when ingested or absorbed through the skin. It can cause kidney and liver damage, central nervous system depression, convulsions, and coma. Ingestion of large amounts of DEG can lead to death.
3. How can one be exposed to diethylene glycol?
Ans: Exposure to DEG can occur through inhalation, ingestion, or skin contact. It is important to follow proper safety precautions when handling DEG and to use protective clothing, gloves, and goggles.
4. What is the acceptable exposure limit for di ethylene glycol?
Ans: The acceptable exposure limit for DEG varies depending on the country or region. In the United States, the Occupational Safety and Health Administration (OSHA) has determined a permissible exposure limit of 1 ppm (parts per million) over an 8-hour workday.
5. What should one do if they are exposed to diethylene glycol?
Ans: If someone is exposed to DEG, they should immediately remove themselves from the source of exposure and seek medical attention. It is important to wash any skin that has come into contact with DEG with soap and water. If DEG has been ingested, do not induce vomiting and seek medical attention immediately.

1