Cit Mit Based Biocide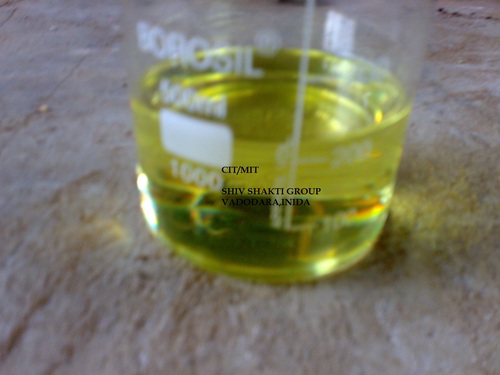 Cit Mit Based Biocide
Price And Quantity
Kilograms/Kilograms

100.00 INR
Product Specifications
technical

1.06 Kilogram per cubic meter (kg/m3)
Product Description
Cit Mit Based Biocide
The chemical name of this CIT/MIT is 5-Chloro-2-Methyl-4-isothiazolineone or 2-Methyl-4-isothiazlinone. This chemical compound is appear to be in the color of yellow to green clear liquid. It is composed of aqueous, formaldehyde, which has free formulation of various isothiazolinones. For various industrial uses offered liquid compound find its applications.
It is a kind of biocide, which is used in dispersion and also applied as adhesives. CAS number of this CIT/MIT compound is 26172-55-4//2682-20- 4 and EINECS No. is 247-500-7. Offered 2-Methyl-4- isothiazlinone covers number of industrial sectors, such as paint, paper and pulp.
If our clients are looking for this well composed chemical compound then you landed on the right side of the page! This clear liquid compound is miscible with water and even with lower alcohols. It is almost odorless in nature comes in the packaging of 50 Kg HDPE Carboy & 230 Kg HDPE Drum.
Features and Applications of CIT/MIT:
1) It gets pH stability approx 2.5 - 9.0
2) The soldification of this liquid compound is 1C
3) Assay of isothiazolineones has the percentage of 1.5 % - 14%
4) It is used as disinfectants and adhesives as well
CIT/MIT Details:
1) CAS No. : 26172-55-4//2682-20- 4
2) EINECS No. : 247-500-7
3) Synonym : 5-Chloro-2-Methyl-4-isothiazolineone ; 2-Methyl-4-isothiazlinone
4) Appearance : Yellow to Green Clear liquid
5) Odour : Characteristic almost odorless
6) Composition : Aqueous, formaldehyde free formulation of various isothiazolinones
7) Assay of isothiazolineones : Min 1.5 % - 14%
8) Specific gravity : 1.02 - 1.30
9) Solidification point : -1C
10) Solubility : Miscible with water and lower alcohols
11) Stability : pH approx 2.5 - 9.0
12) Packing : 50 Kg HDPE Carboy & 230 Kg HDPE Drum
User:
1) Dispersion and Adhesives
2) In-Can Preservation
3) Adhesives
4) Concrete Additives
5) Cutting Oil / Metal Working Fluids
6) Disinfectants (Bactericide, Slimicide, Fungicide)
7) Oil Field Fluids
8) Wood Impregnating Agent
9) Water Treatment
10) Preservative for Aqueous Coating, Polymer Dispersions, Surfactants, Cleaner
11) Paint Industries- (as Fouling Agent)
12) Paper and Pulp Industry
Product Details
| | |
| --- | --- |
| Minimum Order Quantity | 50 Kg |
| Assay of Isothiazolinones min | 1.5 % |
| Application | Metals Removal,Nutrient Removal,Disinfection,Foam Control,Desalination |
| Solidification point | 1C |
| Boiling point | 100 C approx |

Trade Information
200000 Per Month

1-4 Week
Dadra and Nagar Haveli Chandigarh Himachal Pradesh Nagaland Pondicherry Uttarakhand Daman and Diu Lakshadweep Haryana Gujarat East India Telangana Tripura Mizoram Punjab Goa Assam Madhya Pradesh Andhra Pradesh Tamil Nadu Andaman and Nicobar Islands Meghalaya Sikkim West Bengal Arunachal Pradesh Delhi South India Bihar Manipur Jammu and Kashmir Maharashtra Jharkhand Rajasthan Karnataka Uttar Pradesh North India Kerala Central India Odisha West India Chhattisgarh All India